It's very clear that Hana Boppre, the founder of Germany's clean beauty brand, Duša & Kamen, understands the value of pure ingredients, but what makes this brand super unique is the fact that Hana chose to actually energize her skincare with the power of crystals, namely Rose Quartz! Rose Quartz, the darling of crystals, is revered for its power to comfort, reassure, open the heart, dispel negativity and protect against environmental pollution! What a brilliant idea to incorporate all of that powerful (and positive) energy into her skincare line. Through January, Hana would like to offer my readers a generous 20% off with code: GPJ20. *US customers can easily checkout in Euro and it will get calculated based on the daily currency rates.
ROSE QUARTZ FACIAL CLEANSER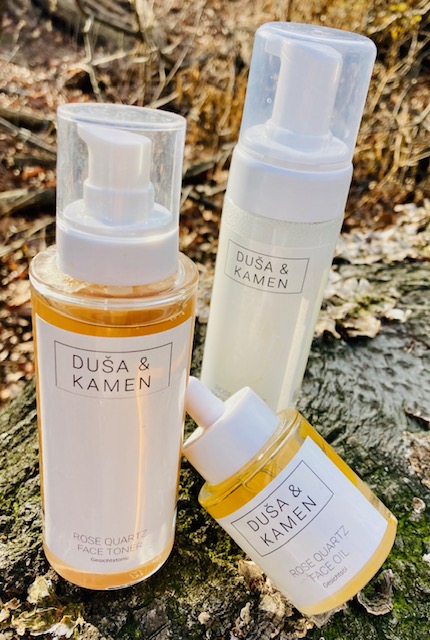 While testing out the Rose Quartz Facial Cleanser for a few weeks, I just kept thinking to myself, "I know this line was created for combination or inflamed skin, but I really think that all skin types would benefit from this cleanser." Why? Well, for starters, this super-mild, foaming cleanser is just so easy to use. It's also effective, yet surprisingly gentle on the skin. Foam cleansers tend to be a bit drying, but Duša & Kamen's Rose Quartz Face Cleanser is silky, leaves the skin feeling hydrated (zero tightness), removes makeup and has a fresh, subtle scent. I highly recommend this for people who are sensitive or those who are suffering with breakouts. The formula cleans without leaving behind any residue and won't activate it (causing redness, etc.). Oily or inflamed skin will love the deep clean without the harsh ingredients and drier or mature skins will appreciate the feeling of soft skin instead of tightness. Oh, and regarding the packaging, I kept thinking about how this bottle would be perfectly mess-free for travel or ideal for keeping in the shower. Shop here.
ROSE QUARTZ FACE TONER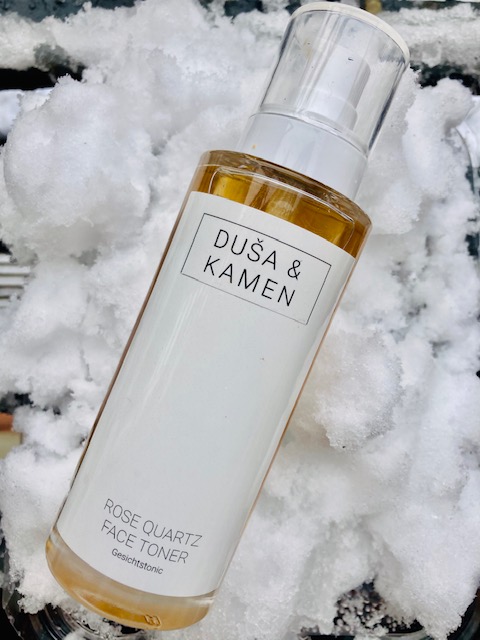 The Rose Quartz Face Toner is probably my favorite product in the line (tough choice, though, as my skin adored all of Hana's products). I just love the consistency of this toner as it's more of a gel/liquid, as opposed to just a simple liquid. This toner feels like food for my skin – so, so nourishing and I find myself reaching for it whenever I need to freshen up and give my skin a re-start of sorts.
Those of you with oily skin are most likely used to having strong astringents in your skincare routines, so this gentle, yet clarifying solution will be a welcome relief. The Rose Quartz Face Toner contains Niacinamide, which reduces sebum production and inflammation. Skin will be left feeling moisturized (without any oily look or feel) and calm. It's also ideal for helping to heal breakouts. For drier or mature skins like mine, this toner clears away any residue, feels so refreshing and helps to stimulate collagen production, too.
ROSE QUARTZ FACE OIL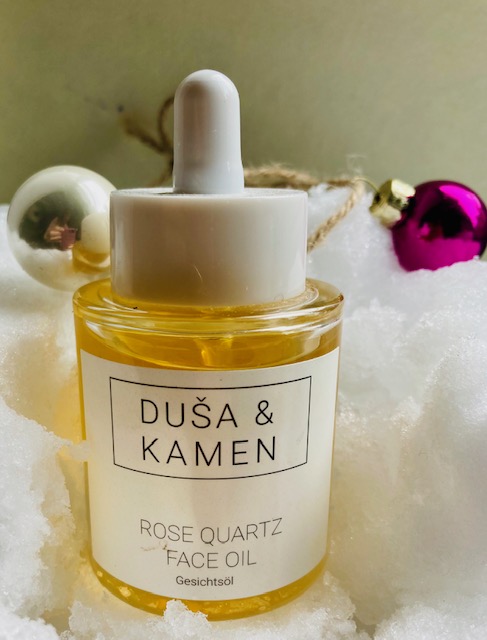 In a word, this face oil is lovely. Everything from the silky texture, to the light floral scent, down to the velvety feel on the skin. This is a luxe face oil that's just so nourishing and rich, yet it absorbs quickly into the skin, making it easy to apply makeup shortly after use. Some of the ingredients in the Rose Quartz Face Oil were new to me like Vitamin F, Balloon Vine and Black Currant (cold-pressed and grown organically). Together with heavy hitter ingredients like argan, jojoba, hemp and grape seed oils, they work to moisturize and calm down inflamed skins.
I'm so thrilled to see Duša + Kamen are recommending a face oil for oily/acneic skins as the days of drying out troubled skin are finally over. Caring for inflamed skin and helping it come back into balance makes a lot more sense. Another big plus? The Rose Quartz Face Oil will not leave skin looking oily (a big concern for many).
LAST NOTES
Although formulated for troubled or inflamed skin, I believe Duša + Kamen  would be wonderful for all skin types as my dry skin is loving it. Make sure to take advantage of their 20% off above!