Traditional Chinese Medicine believes Winter to be a time of restoration. I agree. I love eating nourishing food, getting cozy, taking naps and taking care of myself with lots of journaling and skincare rituals. But body treatments? There's just not enough of them. That's why I was so surprised to receive the new February Discovery featuring Yina and I cannot recommend it enough. This Discovery has a value of $175, but you can get it for under $40! Get it here.
WHAT'S IN FEBRUARY'S DISCOVERY?
I love, love, love that Beauty Heroes chose a Discovery focusing on the body this month. I know it takes time to do treatments for the body, but I'm telling you, you will feel sooo good after this as you'll release tension you didn't even know you had (just ask my forearms…after a few swipes of the Yina Bian stone, they feel like new).
Short on time? It's recommended that you give yourself 30 mins for the full treatment, but honestly, if you don't have that much time, you can still do an effective treatment in about 15-20 (or just 5 if you're simply focusing on the areas where we hold the most tension: neck and shoulders).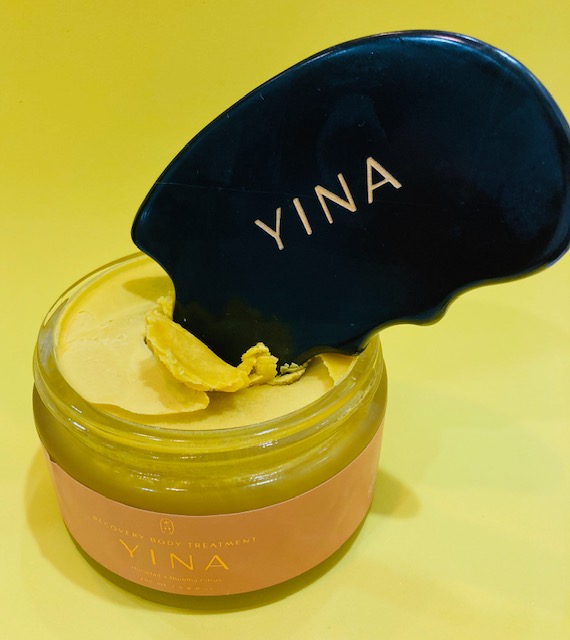 HOW DO YOU USE IT? Just massage the Recovery Body Treatment (a hearty balm that has the scent of ginger, cinnamon and citrus – so warming) all over your body and then massage hips, legs, neck, shoulder, arms and thighs with their Body Gua Sha Bian Stone. My favorite spots? My forearms (from all of the typing), my thighs (what a release!) and my neck, natch.
NOT JUST A BODY BALM
The Recovery Body Treatment is "an active, circulation-stimulating body balm formulated with pure and potent medicinal herbs and bio-adaptive botanicals to stimulate Qi, boost immunity and energize skin metabolism for full body renewal." Yina's Recovery Body Treatment which can be used alone or with their Gua Sha Body tool. This balm is a non-greasy, nourishing treatment that feels like food for the skin. It's warming, cozy and leaves the skin feeling protected and moisturized. I didn't have to wait to put my clothing on, either. Plus, you don't need a lot of product (and this is a big jar). The scent, as I mentioned above, is just so addictive, too. Get the Discovery here.