So many products are coming out that I can hardly keep up, so I wanted to give you a post on a few of them. If they're not new, they're most definitely new for me, so check them out! There's also some fun specials happening now, too!
SPECIALS HAPPENING NOW
Bliss Bundle from The Detox Market is here and it's a great one (all full sizes). Spend $190 and you get $268 worth of green beauty free (plus a cute little bag). There's a limited quantity of these, so get on it! Shop here.
There's a free GWP happening over at Aillea right now. Get their Winter Bonus Bag free with your $65 purchase. Shop here.
Makeup Sale! Need some makeup? Take 15% off of all makeup right now over at The Detox Market. Shop here.
Plaine Products (super eco products where their packaging is returned – they give you a label, so no waste) is giving away a free hand sanitizer with any purchase. Plus, get 20% off using my code. Details here.
CLEANSERS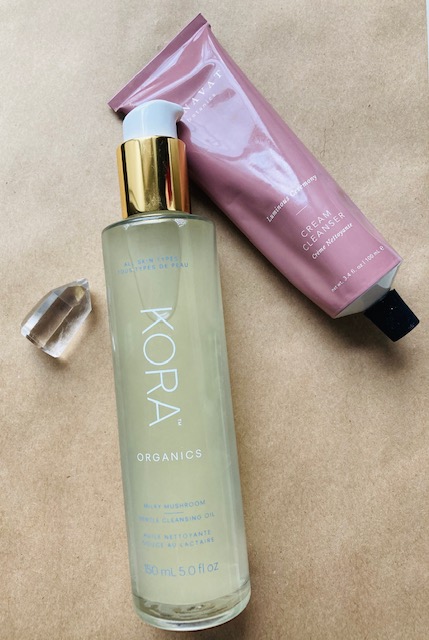 Kora Organics' Milky Mushroom Gentle Cleansing Oil This is a big jar! This brand new cleanser will remove all of that makeup! It's certified organic, gentle (yet very effective). It comes out like a gel, but turns into this yummy milky cleanser (my favorite types). I also love that it is infused with clear quartz…I'm a sucker for positive vibes and I'll take them anyway I can get 'em! Shop here.
Ranavat Luminous Ceremony Cream Cleanser I know I need to talk about the product, but can we talk about the beauty of this packaging? I love a recyclable squeeze tube and the color is gorgeous! This is a lovely, lovey rich and creamy cream-to-milk cleanser that's super gentle. It's infused with Manjistha (a superfood) and roses to detoxify and help the skin glow. If you're a Beauty Heroes member you get 15% off! Shop here.
BATH
Who doesn't love Osea? I just received their Gigartina Therapy Bath and the big jar and the scent alone is exciting! This mineralizing bath is more than just your average bath as wild Gigartina Seaweed is the primary ingredient and it softens the skin with mineral hydration (nothing beats seaweed for softening, honestly). This therapy bath is a fine, dusty mauve powder that will fizz and foam. Shop here.
Everyone is yapping about Zoe Organics' brand new Bath Bombs. They come three in a set and are sooo delicious. The cool thing? There's no artificial colors or fragrance and the ingredients are gentle. They use certified organic essential oils and the superfood extracts and dyes are made from spices and vegetables. They'll give you a few minutes of fizz, too! Take 15% off of Zoe Organics with code: GPJ. Shop here.
This will wake you up! The new Detox Market Body Brush is five stars. The reason I love it? You'll be able to reach ALL parts of your body as there's a removable stick. So, if you want to get hard to reach areas, just attach the handle to the little brush. Dry brushing is great for stimulating blood circulation and promoting lymphatic drainage in the tissue. I also love it for exfoliating the body. Nothing gets the skin softer. Use this before you get into the shower and then follow up with some incredible body oil! Shop here.
A NEW SERUM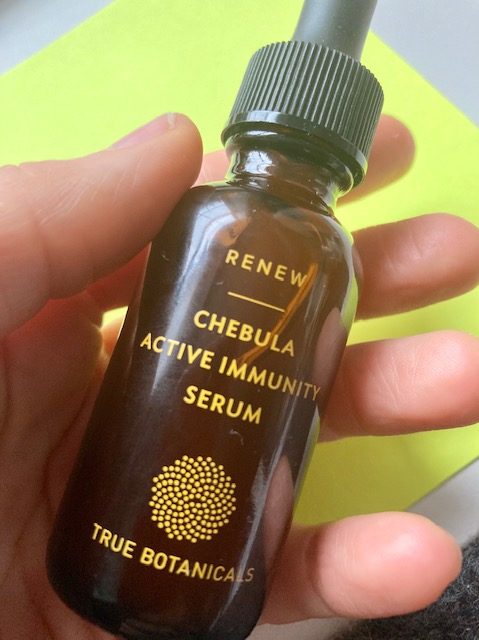 What the heck is Chebula and why would you ever want to put it on your face? Well, the new True Botanicals' Chebula Active Immunity Serum is one reason. Chebula (I had no idea) is a fruit extract that is amazing on fine lines/wrinkles, uneven skin tone, promoting firmness, hydration and protection. This serum also has Echinacea, Ginger, Elderberry (to strengthen and protect skin) and green tea for antioxidant protection. If you want some discount codes go here.