I'm really excited to tell you about two new products that I've been testing from Zion Health: their Ancient Clay Soap (the scent is highly addictive) and my new bestie (yep, I'm sold), ClayDry Extra Strength in Elderberry (cool, right?) So, why use clay? Clay is beneficial in may ways as it's used to heal, detoxify, help stimulate collagen, fight inflammation, neutralize excess sebum and more, so these are a great way to incorporate some into your daily routine. And now you get 10% off site wide with code: GREEN10.
CLAYDRY EXTRA STRENGTH DEODORANT – REFILLABLE!
Woo-hoo! I honestly never thought that I'd ever be able to replace my favorite deodorant with one that not only works better, but costs less than half the price! And, before I get into a deep dive here, I want to add that they just came out with new deodorant refills (they have 10 scents now, but are expanding the range). I'm really happy about this because you know that cutting down on plastic is huge for me and I know it is for you, as well.
Being the Queen of Deos, you know if I'm recommending something, it must work! Zion Health's vegan ClayDry Deodorant not only smells incredible (I have Elderberry), but it's also keeping me VERY dry. I most definitely appreciate a truly effective, extra-strength deodorant and I know so many of you out there do, too (especially in the Summer) so this one's for you! Now during my many years of testing out "clean" deodorants, I have found that the ones that contain ingredients to neutralize odors and balance the skin's pH (like clays, magnesium hydroxide and anti-bacterials) work best. Ionic Clay Minerals, found in this deodorant, contain more than 57 trace minerals to help absorb odor and balance pH. The essential oils neutralize odor and help to keep wetness at bay (a big draw for those of us who don't wish to use an anti-perspirant). This gluten-free formula also contains Montmorillonite to absorb odor and toxins. Other ingredients? Coconut oil, Shea butter, magnesium hydroxide (game-changer), Witch Hazel, green tea extract and more. It's also paraben-free, sulfate-free and is 100% natural. And ClayDry Deodorant, at $7.99, is really a terrific value. Use code: GREEN10 for an extra 10% off now. Shop here.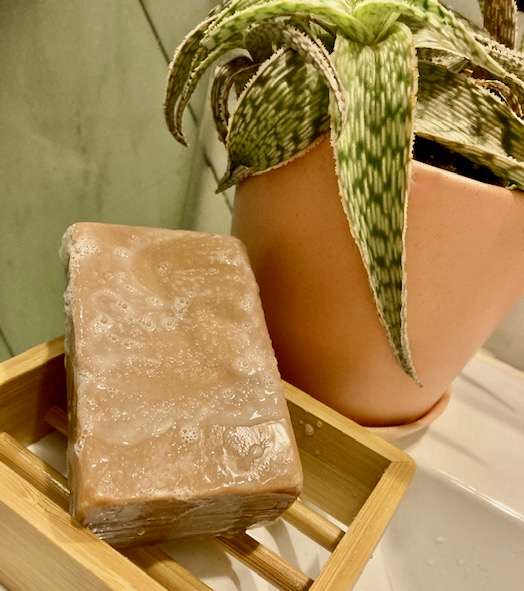 Oh, how I love a big bar of pure soap! Zion Health's Ancient Clay Soap with Thieves Essential Oil is not only affordable, but the scent is so warm and calming. My entire bathroom smells heavenly since I started using this baby! This super-earthy bar soap is 100% clay and vegetable-based. It's vegan, gluten-free, cruelty-free and has thee most perfect scent, Thieves Oil, a blend of clove and spicy cinnamon with lemon, eucalyptus and rosemary. But Thieves oil goes beyond scent as it has anti-fungal, antiviral and antibacterial properties. This is a big, solid block of soap (at a great value, too – $6.49) that will last you and contains zero filler ingredients. It delivers lots of lather and holds its scent. This bar also contains Ionic Minerals for skin renewal, coconut oil, butter and shea butter for moisturizing, oatmeal to aid inflamed skin issues like eczema, dry skin or itchy skin and essential oils for their anti-bacterial and anti-fungal properties. This solid bar is great for families, too. Use code: GREEN10 for an extra 10% off, too. Shop here.
LIMITED OFFER
Zion Health is offering my readers 10% off site wide for a limited time with code: GREEN10 here.
This is a sponsored post and I'm so happy to have been introduced to these products…new faves? Uhm…big yes!